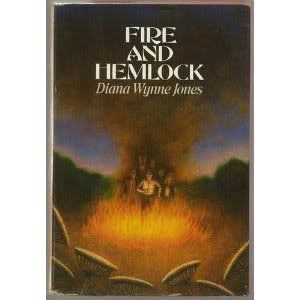 Warning: this post assumes you have read Diane Wynne Jones's
Fire and Hemlock.
If you haven't, it will make very little sense, I suspect. Fair warning.
------
Here's a really weird thing I realized recently about
Fire and Hemlock
: It's a love story (in large part) in which no-one says "I love you."
Ever.
I used the
Google Books version of the text
, and searched for the word "love." The word appears 24 times in about 420-some pages of the paperback. Mostly it's people saying "Here, love" to Polly. Seb Leroy is rumored to be "in love with" Polly, and later offers to go with her in the "Tunnel of Love" at the carnival. The Dumas quartet signs a letter "with love from the Dumas Quartet." And When Polly plays Pierrot in the school play, Harlequin and Pierrot are discussed falling in love. Apart from that, the instances of the word are all "I'd love to!" and "He'll love this!"
But it's not that Jones doesn't have people
trying
to talk about love. They just always use different words: Ivy goes on about "happiness," at the end Tom talks about "seeing you" and Nina is boy-mad: "
The rest of the time Nina pursued boys."

Laurel does not talk about love. Laurel is, in fact, incapable of real human love. One of the aspects of being of the Fair Folk. She takes, she enjoys, she uses—but she does not love. And her point of view infects the whole story from beginning to end.

---

I'm reaching the conclusion that the reason the ending of the book is so unsatisfying is that the real ending, the place it

should

have gone, is so depressing that Jones couldn't bear to go there. In order to save Tom, Polly really does have to let go of him. In doing so, she is in essence giving up her love. And in doing that, she is becoming not a little like Laurel. No technicalities, no "Nowhere is somewhere" word games.

The book, in avoiding actually talking about love—real love—swirls around a vortex. It's the pool at the bottom of the garden, which as Polly enters drains her of human emotion and connection, drains her of love.

---

Maybe afterwards, when Tom says "I want to see you anyway," they will be able to write stories together, to meet in that make-believe world where they explored being heroes together. But in the flesh-and-blood world, Tom used her, or tried to anyway. It may have been justifiable, but that's not the point. Polly's heartbreak, her teenaged jealousy of Mary Fields, which was so neatly erased by Laurel in making her "forget about Tom," has been unerased and revealed for the flawed and not-necessarily-based-on-the-real-Tom thing it was. Whatever relationship Polly and Tom go forward with, it will be tinged with the fact that they can never really trust each other the same way again.

---

It's not good to ask too many questions of love, to ask it to justify itself. Basing our decisions in love and life on the patterns we

see

can leave us blinded to patterns we don't see.
That's the part of dancing that's impossible to explicitly teach, that rules can't touch, that explicit labels hide.